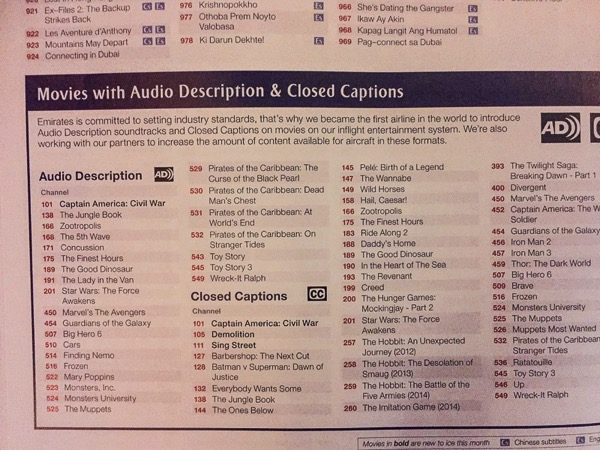 Craig and I were squeezed into our tiny economy seats travelling from Cape Town to Dubai. As he often does, Craig was flipping through the airline magazine to see what was on offer as entertainment during the flight.
I admit I seldom watch movies when travelling. I find the audio tracks are usually slightly distorted which makes it hard for me to understand. It's also a little unfair for me to constantly ask Craig to describe what is happening onscreen, especially when he is watching a completely different movie. So I tend to ignore the inflight entertainment and simply listen to a book on my Plextalk Pocket book-reader, or to music on my iPod.
As you can imagine, I was startled when Craig read me the announcement in the Emirates magazine that the airline was now offering some movies that were accessible to blind and hearing impaired travellers. They are the first airline to offer this service.
An audio description track is an additional sound channel that describes what is happening in each scene, so blind and visually-impaired people can watch a movie independently. Likewise, closed captions are sub-titles of the spoken parts of a movie for those who cannot hear.
I think it's great that Emirates is taking the needs of their disabled passengers into consideration. I'll admit I didn't actually watch any of the movies – I was totally wrapped up in my book and only reached the enthralling conclusion shortly before we landed in Dubai. But that's not the point. The fact that Emirates is giving us the same access that sighted travellers have is a huge step forward and I think it's fantastic. Well done, Emirates!
And maybe next time I travel on Emirates I'll actually watch one of the movies.