Lois writes extensively about her experiences of life as a blind woman living in a sighted world in her books and her Beyond Sight blog. She has published six books so far, one of which was an Amazon best-seller.
---
Paws for Thought: Seeing the World Through the Eyes of a Guide Dog
Published September 2021.
"I am named Fiji, and am a yellow Labrador cross Golden Retriever. I have a very special job – I'm a guide dog for the blind. Being a guide dog takes discipline and focus, but it also means my life is full of excitement. I have had plenty of adventures with my mom, Lois Strachan, both as a guide and when my harness is released. I have had a real dog's life and I have loved every moment of it. And I am here to share it with you in my own words."
"I don't usually give a five-star review, I'm just like that! But Fiji really does deserve it. After all, she is a dog! A witty, insightful, and informative look at the life of a guide dog, through the eyes of the guide dog. Lois Strachan captures how her beautiful Labrador dog must experience the world and what it must be like to face the various lessons and challenges of becoming and being a guide dog. It is a fun and easy read as you journey with Fiji from her puppyhood, through her training, and into her role of taking care of Lois. Do get hold of this book as it touches your heart and your soul. It also makes a great gift."

review on goodreads.com
---
A Different Way of Seeing:
A Blind Woman's Journey of Living an "Ordinary" Life in an Extraordinary Way
Published 2016; second edition published October 2020.
"Have you ever wondered how a blind person pours a cup of coffee? Or how they and their guide dog know when it's safe to cross a busy road? When Lois Strachan lost her sight at the age of 21 years she had to learn the answers to these and countless other questions of how to live as a blind person in a sighted world. In this delightfully quirky and entertaining book Lois shares some of the secrets she discovered about how to live an "ordinary" life in an extraordinary way despite her blindness."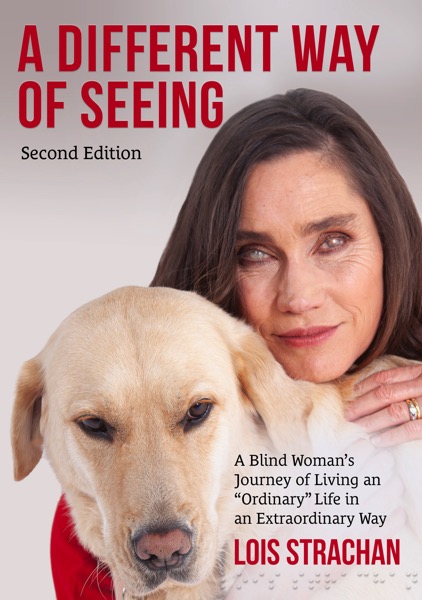 "This book is by turns searingly honest, quirky, funny and helpful. Best of all, it succeeds in giving valuable insight into how a blind person perceives her world. Truly an inspiring read and one I appreciated very much indeed."

Here's what a reader thought of this Amazon bestseller – review from amazon.com
---
The Adventures of Missy Mouse
In this series of illustrated books for younger readers, you and your child will get to explore different tools and techniques used by those who are blind or partially sighted. The purpose of the books is to open the conversation around disability and show that a person with a disability is simply a person who uses different techniques to accomplish tasks.
The books in the series are:
Missy Mouse Goes to the Park
Missy Mouse Goes to the Doctor
Missy Mouse Goes Sailing
Missy Mouse Goes on a Picnic
"The books are wonderful bedtime stories for young children. They are able to learn about Missy Mouse and ways she handles day to day tasks with blindness. Lovely pictures and short enough to keep kids engaged."

review from goodreads.com
---
Author Assistance
Lois is also a writing coach who helps aspiring non-fiction and memoir authors to make sense of the overwhelm when writing a book. If you are planning to write a book, or are currently writing one and have become bogged down in the detail of all that needs to be done to complete it, Lois can help you plan a way forward.
Additionally, Lois is a sensitization reader who helps authors writing characters with disabilities to ensure that the way their characters are represented are true to the lived experiences of disabled persons. This service is for writers of both fiction and non-fiction.
Beyond Sight Blog
Get a weekly sneak peek into Lois's different Way of seeing on her Beyond Sight blog. Lois shares articles about her travels, speaking and writing life, and offers observations on what it is like being blind in a sighted world.
Oh, and her guide dog also posts articles on the blog every month, which are not to be missed!
Follow the Beyond Sight blog to discover what Lois is up to.