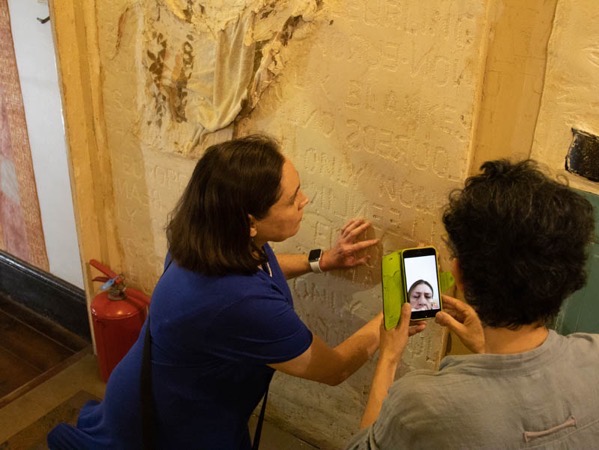 Having been notified that we had been successful in our funding application for the Inclusive Heritage 'Kanala' (please) project, our first step was to visit the District Six Museum to gain a sense of their existing exhibits and what the visitor experience might be like for a blind or partially blind person.
Our plan was for me to visit the museum together with my husband, and for Karren to accompany us remotely via WhatsApp video. Much to our delight, Tina Smith, the exhibitions manager at the museum, said she would be available to show us around the space and talk us through their operation.
Right from the start we could see that the museum offered both challenges and opportunities for what we were hoping to achieve. It's true that the exhibits at the museum were highly visual, based as they are on newspaper articles and photographs from District Six's turbulent past. From that aspect, it felt like adjusting all that visual material to make it more accessible to a visitor who was blind or partially blind would be both time consuming and expensive. At the same time, it very soon became clear that, at its heart, the District Six Museum is a living archive of memories and stories. And that was something we could work with.
Having said that the exhibits at the museum were highly visual, there were a few gems that could be explored through the sense of touch. I spent a wonderful quarter hour exploring the wall and floor of one exhibit on the second floor of the museum with objects partially encased in plaster, with names and words etched into the surface. That was a wonderful experience for me to feel like I was part of the story that was being told.
The second, and possibly strongest, opportunity for Karren and me to increase awareness of how to accommodate a blind or partially blind visitor was when we learned that many of the visitor guides on the team are former residents of District Six who share their own stories and memories with visitors on the tour. Hearing that gave Karren and I the idea of holding a workshop with the museum staff, the visitor guides, and former residents from District Six to share how we experience heritage spaces, how to engage with a person who is blind or partially blind, and how to share their stories in a compelling and multi-sensory way to bring them to life, not just to those without sight, but to all listeners.
I'll tell you about that workshop in my next article. But, for now, let me just say that if you have not yet had the opportunity of visiting the District Six Museum and hearing the stories that form the foundation of the living archive, that you really ought to do so. It is a fascinating and humbling experience.