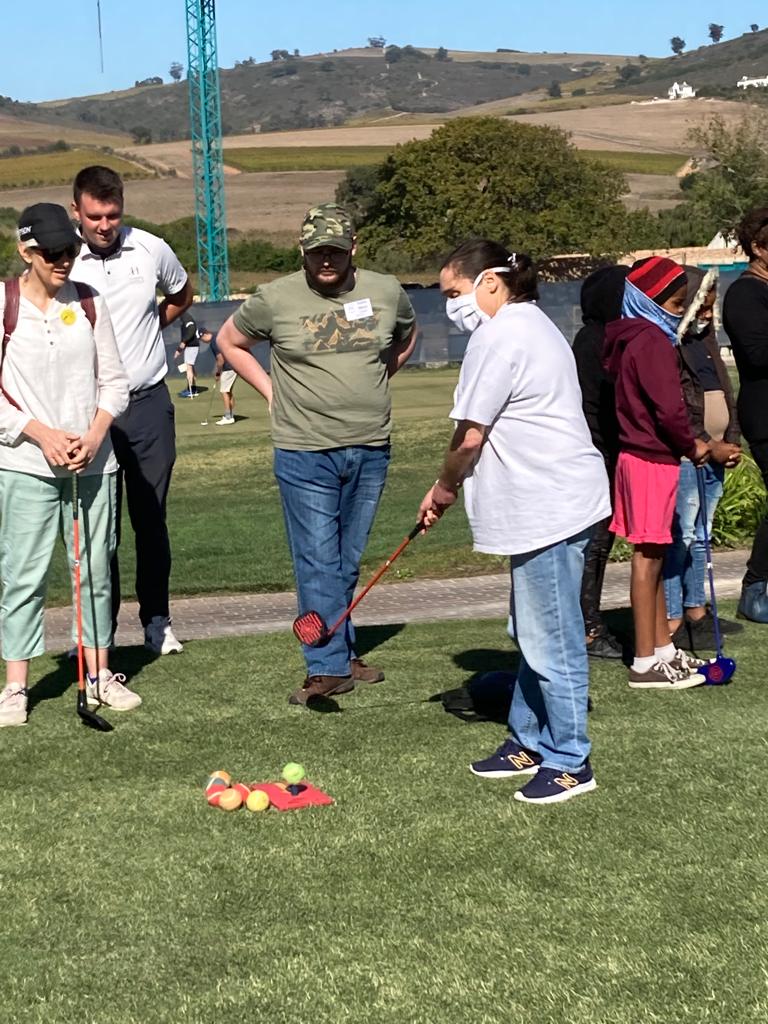 I've never been a particularly sporty person. Even from the time I was very young I was usually the one with my head buried in a book while my friends were running around, or hitting a tennis ball against a wall to practise their shots. Nonetheless, since losing my sight I have tried a few activities and sports – 10-pin bowling, tandem cycling, pool, mini-golf and scuba diving, which I wrote about last year.
 
So it wasn't really a huge surprise when I signed up for an adaptive golf day being run by the Raising Hope South Africa team. Their advert said they could accommodate people with a range of disabilities and would adapt to each person's particular needs.
 
I was by no means the only person at the open day with a visual condition. Even more fun, I already knew two of the other participants, both of whom are partially sighted, and there was much laughter at our first attempts to aim the balls at our allocated  targets. Well, at least at my first attempts to aim the balls at my allocated target, which was definitely a bit hit and miss. More miss than hit, if I'm honest.   
 
My first challenge was to learn how to find where the ball was located. Even with sighted assistance helping me to position myself correctly, I still had to take the swing and try to hit the ball on my own. After showing a decided talent for hitting the ground near the ball I eventually learned to lift the head of the golf club a few centimetres off the ground before taking my swing, and that improved my chances of actually hitting the ball.
 
I also discovered that my skills with a putter far exceeded my abilities with a driver. I don't know whether the shape of the driver affected the balance of the club which left me striking the ball in the most unpredictable directions.  Certainly I hit the targets a whole lot more often when I was putting
 
There are a couple of videos of me taking shots on my Facebook, but please bear in mind that these were taken once I had started figuring golf out a little. So they probably make me look more in control than I felt.
 
Honestly, I'm not about to give up my day job and spend all my time improving my golf game. But I certainly had a lot of fun exploring adaptive golf and would recommend it to any of my friends with disabilities when Raising Hope SA has their next open day.
 
Thank you to Mary and Ashlyn of Raising Hope South Africa and Shane of Hazendal Golf Course for giving me the opportunity to try adaptive golf.
 
To find out more, you can contact mary@raisinghopesa.com
 
Hmm, I wonder what my next adaptive adventure will be?