sightseeing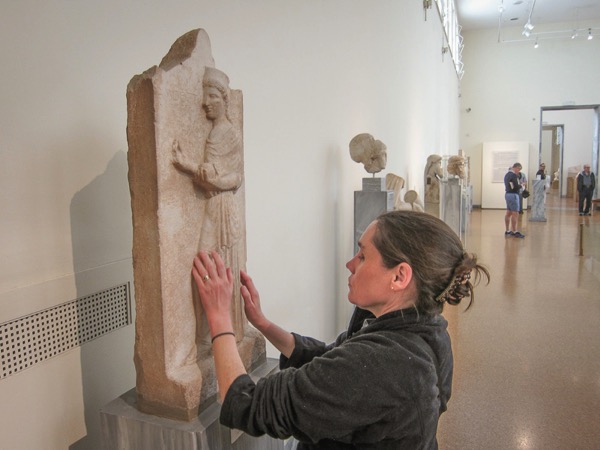 You wouldn't believe how often people ask me if my blindness has given me extra sensory abilities – whether I can hear, scent, and taste better than a sighted person, and have a more sensitive sense of touch.
My honest answer? I don't think so.
I don't believe my other senses have improved since losing my sight. But I do believe that I pay them more attention than I did when I was able to rely on my sight. Which means they may appear to be better than they were.
When I was sighted I relied most on my sense of sight to give me input. I believe most sighted people do the same thing. Since losing my sight, I have used the input I gain from my other senses to fill in the gap caused by my visual impairment. My ability to interpret the world around me is dependent on what I can feel, hear, and smell. So I pay far more attention to the input I gain from my other senses than I used to.
When I'm walking to our local train station I use my other senses to help me identify where on my route I am – whether it be the scent of a particular plant, or the sound of a specific dog who always barks at Fiji and myself as we pass. Whether it's a patch of gravel that helps me realize I am approaching the station itself, or a dip in the road that identifies the spot where we need to turn and cross the road we've been travelling for the past 10 minutes. My other senses compensate for my lack of sight and help me navigate the world.
My lack of sight means I experience travel very differently. Of course I miss out on the sightseeing that a sighted tourist would be able to do. But I regularly pick up things that a sighted person, who relies primarily on their sense of sight, might miss. For me, travel is a multi-sensory experience that incorporates every sense I have at my disposal. Which gives me a vastly different, but no less rich, experience of a destination.
When was the last time you focused on the input you could gain from your other senses? Why not take a moment to notice what you hear? Smell? Touch? And see what an extra dimension your world gains. Now, imagine doing the same when you are next in a new city or country.
There is so much that I wasn't aware of because I was able to use my eyes to interpret the world around me. I'm not saying that my other senses completely fill in what I used to be able to see, but they certainly give me an alternate way to explore the world.
As I sit considering what clothing to pack for my imminent adventure in Germany and Poland I find myself idly constructing a list of the pro's and con's of travel from my own particular perspective.
the pro's are fairly easy. I love experiencing new places and using my remaining senses to build a picture of the place we're visiting. I know it's a very different way to see the world. People often say they don't understand why I travel, let alone how. For me there's something special about experiencing a place using my senses of hearing, taste, scent and touch. And, of course, discovering the stories that surround the cities and sites we visit so I can use my (rather over-active) imagination to imagine myself into the lives of the people living there.
I also learn more about my own life and skills when I travel. Somehow, leaving my usual routine gives me new insight into what I'm able to do and often gives me a more objective way of seeing my own life.
Travel also teaches me about different cultures. While I'm privileged to live in a wonderfully diverse country, travelling makes it easier to observe diversity since we're actively trying to experience the reality of a different place and people.
For me, those are a few of the pro's of travel. So what are the con's?
Let's be honest, most of us love our home comforts – knowing where everything is in our kitchen, being able to arrange our clothing the way we like, and especially the comfort of our own bed. We don't have any of those familiar comforts when we travel. For many that's a decided disadvantage. And I'm no different – I like my own space and the way I've adapted it to serve my needs.
For me there's also the challenge of leaving my beloved guide dog behind and being dependent on a sighted guide. Okay, I know that sighted guide is my husband and that he really doesn't mind assisting me and describing what's around me. But still, its hard to leave behind the glorious sense of independence that working with Fiji gives me. Besides, she's so attentive and loving (and occasionally demanding) that it's hard knowing I can't simply reach down and feel her curled up next to me. I miss that when we travel.
These are the thoughts buzzing round my head as I prepare for my trip. And, while I can't wait to head off on my latest adventure, there's a small part of me that's already looking forward to coming home.