school learners
Speaking can be quite a lonely career – seldom do you see the impact what you say has on the audience's you speak to. So when you receive a testimonial from a happy client, it's a very special experience.
Here's a testimonial I received from the principal from a school where my guide dog, Fiji and I spoke to a class of 4 and 5 year olds.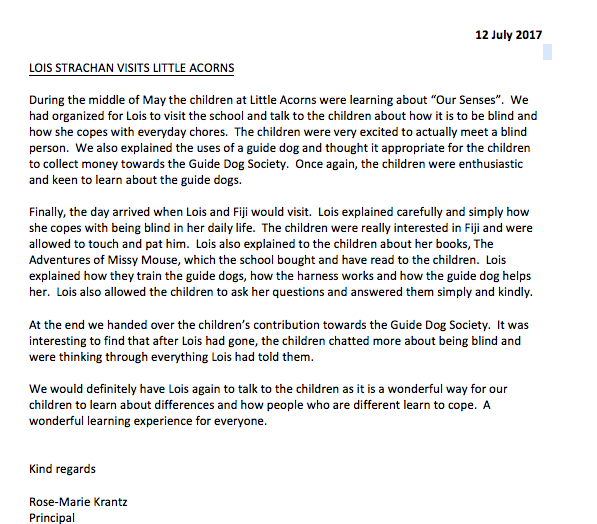 By far my favourite part of the testimonial is where the principal describes how the learners continued discussing the concept of blindness after my visit was over – it wasn't easy for me to get a sense of how much of what I'd told them the children had understood, so hearing that the conversations had continued both during the rest of the school day and afterwards, when they went back home and told their parents about me and my dog.
That kind of feedback is precious to me as it told me I had shifted the way those children saw the concept of blindness… which will hopefully allow them to be more aware of the abilities of those who are visually impaired as they grow older.
If you'd like me to come and speak at your child's school, please contact me and we can make it happen!
Last weekend I got invited back to speak at another school camp by the Rainbow Dreams Trust. This camp was aimed at learners from the townships in and around Cape Town and was the annual gathering of the 4 groups that Rainbow Dreams Trust run during the school year.
Facing a group of 100 learners between the ages of 8 – 18 is very different than facing my most intimidating audiences (aged 4 – 6 years), but several of the same considerations need to be taken into account – how to explain certain key concepts that are fundamental to my message in age-appropriate terms, how to adjust my humour to fit an audience that is very diverse in terms of age and culture… and how to stop my guide dog from stealing the show!
Feedback I received from the camp counselors seemed to indicate that I succeeded in all these areas… well, perhaps the first two more effectively than the final one – and certainly there were enough questions to have filled double the time I had available, so I'm happy that I achieved what Rainbow Dreams Trust had asked me to do.
Here is a video taken from the presentation: