Peloponnese
When we were planning our recent trip to Greece, Craig asked what I thought about spending time seeing a little of the Peloponnese peninsula. Of course I jumped at the chance. My reason was simple – several of the ancient sites I'd studied at university are there – Mycenae, Corinth, Thebes, Epidaurus, to name but a few.
We decided to make the modern(ish) town of Nafplio our base. I expected to ignore Nafplio and simply spend my time on daytrips to each of the ancient sites but, to my surprise, I discovered that Nafplio had a charm of its own that I totally fell in love with.
Nafplio is predominantly a "get-away" location where Athenians escape the frenetic pace of life in the big, bad city. It's situated about 90 minutes away from Athens, which is about the same distance from Cape Town to Langebaan. Nafplio has a permanent population of around 10000 people… but I suspect it has almost the same number of street dogs and cats – but more about them later! With so many tourists and visitors, I'm sure you can imagine what an endless selection of restaurants, pubs, and gift shops… not to mention hotels and B&Bs there are.
Most people, both residents and visitors, congregate either on the waterfront or on the main square, which teems with people of all ages and nationalities from late afternoon till the small hours of the morning.
But for me the best parts of Nafplio were the tiny lanes and alleys just off the touristy areas. They are filled with small but good restaurants and surprising shops, some of which are real gems! Craig and I spent hours combing the tiny lanes and absorbing the rich and diverse Greek culture of this wonderful town.
Whether we were walking round the citadel that perches high above the town on the side of a cliff, sitting on the quay indulging in a mouthwatering ice-cream while staring out to the tiny island that was once a prison and is now a luxury hotel resort, or enjoying sampling the produce of the local distillery (including Uzo and a rather lovely rose liqueur), Nafplio had plenty to keep us occupied when we weren't out investigating the ancient sites.
"But what about the dogs and cats?" I hear you ask, "You haven't said anything about them, though you said you would!"
So, about the dogs and cats – Nafplio has a seemingly vast additional population of homeless dogs and cats. Unlike other places I've been to, the strays neither look destitute nor do they beg from passersby. Sure, they'll come to you if you offer food or attention, but they don't expect it. We saw several people putting down food and water for the homeless animals – they're obviously cared for, even if they don't have homes.
Strangely, every night it appears that the dog population have a community meeting, characterised by lots of barking and occasional snarling, if matters under discussion get heated. I'm not sure if cats attend too, but I think they'd have a problem making a point with all the barking that happens. Meetings seem to start each night around midnight and go on for about an hour, when everyone disperses so all the animals can go off and prepare for another day.
Yet, despite all these homeless dogs surviving in and around the town centre, we saw, smelled or encountered absolutely no sign of dog mess. Not one!
My estimation of a place I visit is always based on my answer to the question "Would I go back there" and my answer for Nafplio is a resounding yes.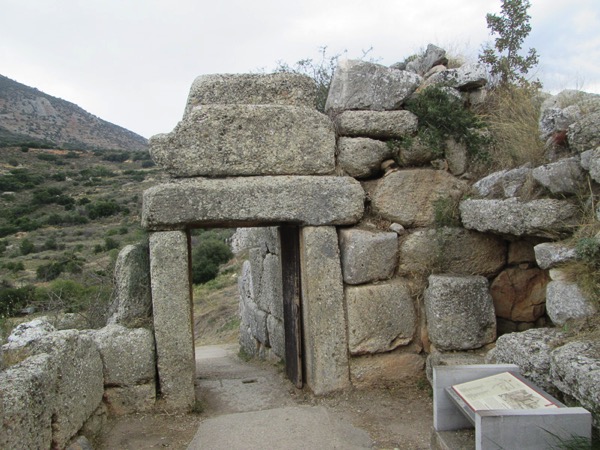 It was a chilly, rainy, windy day that we found ourselves visiting the Citadel of Mycene on our recent trip to Greece. As chance would have it, of course that was the day I chose to wear a sleeveless sundress and sandals!
Those of you who know the story of Helen of Troy will be aware of why Mycene was one of those "have to see" places for me as someone who studied Classical Civilisations. For those of you not familiar with the story, Helen started off being married to Menelaus, brother to the king of Mycene before Paris came along and the two of them landed up in Troy, which was what started the Trojan War. Or so we're told by Homer in The Iliad.
Anyhow, the visit to the Mycenean Citadel was profound for me, imagining Myceneans of the 8th Century BCE walking beneath the imposing Lion Gate, climbing the steep paths from one building in the Citadel to another, or staring from the crest of the hill upon which the Citadel stands surveying the surrounding landscape… which was probably covered by olive trees even then!
I'm sure If I'd been more warmly dressed I would have found the weather wonderfully atmospheric as I stood there recalling the story of the great battle that took place between the Greek forces under the leadership of Agamemnon, Menelaus and the wily Odysseus and the Trojans whose ruling family included such well-known names as King Priam, Hector, and Cassandra, fated to tell only the truth but never to be believed. I probably would have relished the wild weather and allowed it to fuel my imagination as I tried to conjure visions of what life might have been like for all those living and working in the Citadel almost 3000 years ago.
Sadly, shivering in my sundress and sandals, all I could do was to conclude that, if this was an indication of the usual weather experienced in Mycene, then it was no wonder Helen decided to accompany Paris to Troy!