Mycene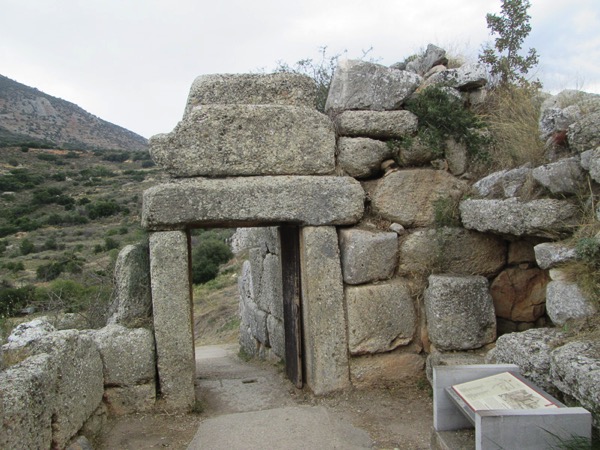 It was a chilly, rainy, windy day that we found ourselves visiting the Citadel of Mycene on our recent trip to Greece. As chance would have it, of course that was the day I chose to wear a sleeveless sundress and sandals!
Those of you who know the story of Helen of Troy will be aware of why Mycene was one of those "have to see" places for me as someone who studied Classical Civilisations. For those of you not familiar with the story, Helen started off being married to Menelaus, brother to the king of Mycene before Paris came along and the two of them landed up in Troy, which was what started the Trojan War. Or so we're told by Homer in The Iliad.
Anyhow, the visit to the Mycenean Citadel was profound for me, imagining Myceneans of the 8th Century BCE walking beneath the imposing Lion Gate, climbing the steep paths from one building in the Citadel to another, or staring from the crest of the hill upon which the Citadel stands surveying the surrounding landscape… which was probably covered by olive trees even then!
I'm sure If I'd been more warmly dressed I would have found the weather wonderfully atmospheric as I stood there recalling the story of the great battle that took place between the Greek forces under the leadership of Agamemnon, Menelaus and the wily Odysseus and the Trojans whose ruling family included such well-known names as King Priam, Hector, and Cassandra, fated to tell only the truth but never to be believed. I probably would have relished the wild weather and allowed it to fuel my imagination as I tried to conjure visions of what life might have been like for all those living and working in the Citadel almost 3000 years ago.
Sadly, shivering in my sundress and sandals, all I could do was to conclude that, if this was an indication of the usual weather experienced in Mycene, then it was no wonder Helen decided to accompany Paris to Troy!
Okay, so perhaps I didn't go island hopping for 10 years like Odysseus did on his way home from the trojan War as described in Homer's The Odyssey, but I felt my recent trip to Greece was no less of an an epic adventure than that great work!
Over the next few weeks I'm going to share some of my experiences from my trip, but I thought I would start off with a very brief overview of what I loved most about my extraordinary experience of being a blind tourist in Greece.
As someone who studied ancient history at university I've always been drawn to Greece because of it's depth of history and myth. This time around I had the opportunity of visiting a number of ancient sites both in the Peloponnese and in Athens itself. The impression that remains with me is of how closely intertwined ancient and modern are in Greece – you can be driving down a modern highway and suddenly find a 5th or 6th century BCE (before common era) stone bridge right alongside the highway… or you can be following (fairly vague) signs to an ancient tomb and find yourself walking through a commercial farmer's orange grove. At times it feels a little surreal – as if you've time travelled between one step and the next. But it's also great that the sites are so accessible to those who are interested in taking the time to see them – and I'm not using the term accessible with reference to my blindness here.
Having said that, I found Greece very good generally from the perspective of disability accessibility. In all but one ancient site both Craig and I were admitted free of charge, in the archeological museum in Athens I was given a very special tour (more about that in a future post), and I was impressed to see that there was a well-constructed and easily accessible wheelchair ramp at the Temple of Poseidon (more on that in future as well).
I also loved the Greek culture. I found the people friendly and gregarious and felt very much at home with their way of life that is so outdoors based – food is often eaten outdoors or on balconies. And, talking of the food – wow! As a fussy vegetarian I sometimes struggle to find local culinary fare that I'll eat… at times I've had to resort to hot chips or a plain cheese and tomato sandwich if I wanted to survive on an overseas trip… but not in Greece – there is an amazing array of delicious food, both meat and vegetarian, for any Greek visitor to choose from. In fact, there were times that my problems stemmed more from the overwhelming number of scrumptious options arrayed before me and my inability to settle on just one or two!
I'll be sharing a lot more detail in the next few weeks, but hope this has given you just a taste of what an amazing experience my trip to Greece turned out to be… "stay tuned" for more photographs and stories of my trip!