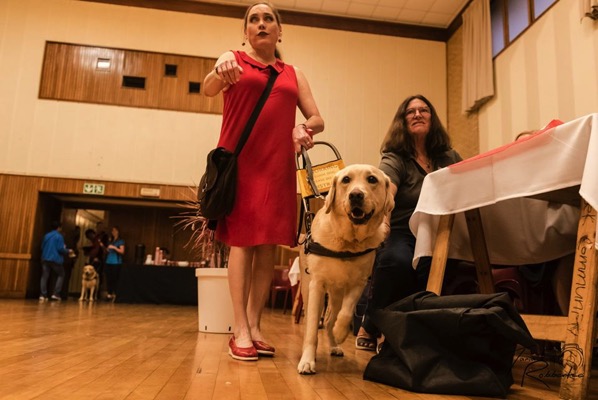 Pride comes before a fall. Or so the saying goes. And, of course, sometimes it's all too true. Even when not taken literally – after all, I didn't actually fall.
Let's go back a bit and I'll explain.
Fiji and I were attending the Love Your Guide Dog event in Fish Hoek. Love Your Guide Dog is an annual fundraiser for the South African Guide-Dog Association for the Blind organised by two wonderful ladies who are service dog owners – Janice Salthouse and Dawn Pilatowicz. It was our first time attending, and I'd been asked to propose the thanks at the end of the evening.
The event started with an introduction and walk-through of all the working dogs and puppies-in-training. And their respective humans, of course. And, with my typical stubbornness, I decided that Fiji and I would be introduced, and walk from the entrance to our table without sighted assistance. After all, Craig would be at the table and I was sure Fiji would walk straight to him without a problem. Which is where the term pride becomes relevant.
Because, you see, when we were about halfway to our table, my guide dog suddenly veered off towards another table to say hello to someone. And then proceeded to cause chaos by pulling me behind her through a forest of tables and chairs as she tried to reach Craig. All of which could have been avoided if I'd swallowed my pride and accepted sighted assistance.
What made it funny was that we'd been asked to provide a brief comment on something unique about our dogs for the introductions. And it was at the precise moment when Janice, who was reading the introductions, read that Fiji was easily distractable that Fiji veered so vastly off course… demonstrating exactly what I'd written.
When Fiji and I took part in a show at the Grahamstown National Arts Festival last year, our show's producer told me I should consider trying stand-up comedy. Maybe Fiji was simply trying to show me how exquisite her sense of comedic timing is. Maybe she was just wanting to say hi to whomever was at that table. Or maybe she just got distracted. I'll never know for sure.
Regardless of her rationale for doing what she did, Fiji landed up getting the first laugh of the evening.
And what a fun evening it turned out to be. But you'll have to wait for next time to hear the details…
With thanks to Tania Robbertze Photography for the photo of Fiji and I at the event.