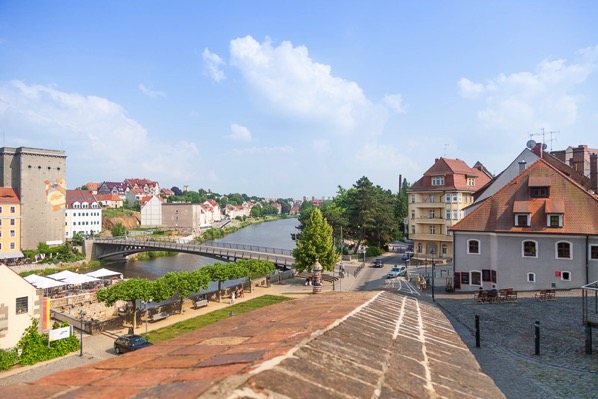 There's something special about medieval towns. I don't know if it's the charm of cobbled streets, the beautiful old buildings, the sense that time flows a little slower than it does in a modern city, or a combination of all of those.
Whatever the reason, I found myself falling under the spell of the town of Gorlitz, our first stop on our recent trip to Germany and Poland, almost immediately.
Gorlitz is the eastern-most town in the region of Saxony in Germany, on the banks of the Lusatian Neisse River which forms the border between Germany and Poland. On the other bank of the river lies the Polish town of Zgorzelec.
The difference between the two towns is marked – Gorlitz is a beautiful, old medieval town. Zgorzelec, at least the parts that I experienced, appears to be more austere with streets lined with modern apartment blocks, as you can see from the photo taken from the German bank of the river.
One of the things I found most fascinating was the fortuitous location of the towns –neither Germany nor the Allies were willing to bomb the towns for fear of bombing their own people. So the towns made it through WWII with no damage.
Gorlitz is far from being a tourist location, which is part of its charm. Sure, it means that few of the restaurants have English-language menus, but that's not a significant problem and ordering food in German or Polish soon becomes part of the experience. We found some delightful local restaurants, including one that had a maze, that I may write an entire article about in the coming weeks.
Considering it's not one of the usual tourist stops, a surprising number of people in Gorlitz speak good English so it's not hard to make oneself understood, though our smattering of German and Polish did prove useful on occasion.
In the past few years , Gorlitz has gained a degree of popularity as a movie location – the 2013 movie of Markus Zusak's "The Book Thief" was filmed there, as was the movie "The Grand Budapest Hotel".
So, if it's not usually a Tourist destination, you're probably wondering how Craig and I landed up in Gorlitz. We were there for two reasons. It seemed a great first stop on our road and rail trip from Berlin to Krakow. The timing also just happened to coincide with the Europa Marathon which Craig hoped to run – watch for a possible article on that as well.
That's just a brief introduction to what turned out to be one of the highlights of our trip – it certainly was a fantastic place to start off our adventure and, if you ever find yourself in Saxony, I'd definitely suggest you give it a visit.