disability access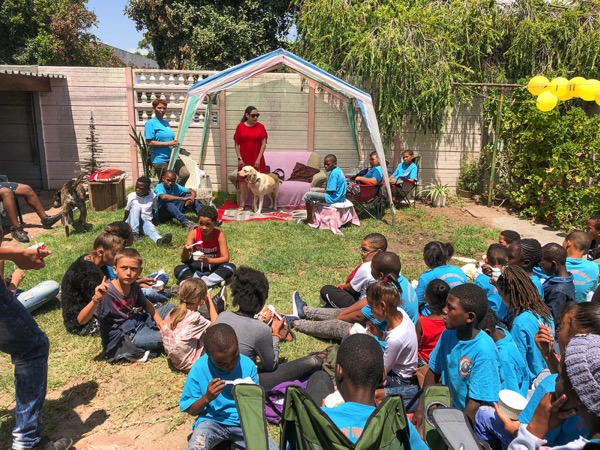 It's no secret that I'm nervous when speaking to groups of young children. For one thing, I know I'm going to have to work hard to get them to focus on what I'm saying when all they really want to do is meet my guide dog, Fiji. But it's also hard to know how well the youngsters grasp the concept of blindness and what it means in my life.
This nervousness probably explains why I actively seek the opportunity to talk to learners. After all, don't they say the best way to work through your fears is to confront them? In reality, getting to spend some time explaining what life is like for me as a blind person always gives rise to a fascinating conversation between myself and the youngsters concerned. And a recent visit to the Adventure Kids Club in Cape Town was no exception.
My audience was a group of fifty youngsters and a few adult coordinators, who sat patiently as I spoke about my life and then asked a flood of questions, ranging from how I eat, right the way through to what techniques I use to ensure I'm not excluded when it comes to social activities with sighted friends. The Adventure Kids Club is a community organisation set up by Maria Strachan in Ysterplaat in Cape Town. Maria started the group as a way of inspiring and encouraging youngsters from the community, many of them coming from disadvantaged backgrounds. And, in case you're wondering about the coincidence that Maria and I have the same surname, yes, our respective husbands are cousins.
As often happens when Fiji comes with me to speak at a children's event, the youngsters had most fun when they got to come and say hello to her, and she loved the attention. It's always so cute to see Fiji surrounded by a group of youngsters who want nothing more than to give her love and play with her. Only, maybe this time I gave my dog a run for her money on how to hold the kid's attention – Maria asked me to bring my guitar and play a few songs for the group. Which I did – to an enthusiastic reception. Here's a short clip of one of the songs I played:
https://www.facebook.com/cdstrachan/videos/10158090119251468/
Ultimately, I think both Fiji and I were lucky that we'd finished talking to the youngsters before the ice-cream arrived – I'm not sure that even a guide dog can capture a child's attention when facing competition like that!

It is really not hard to find an enticing restaurant in Cape Town, no matter what your preference in cuisine happens to be. I am constantly amazed at the number and variety of restaurants we have. But I sometimes wonder if finding a restaurant is as easy for someone living with a disability?
Disability access is a subject close to my heart. I've decided to write reviews of places that impress me – and those that horrify me – in terms of how accessible they are. I suppose my recent article about the SAB Newlands Brewery should technically be considered my first, but this is the first that will appear under the Accessibility Review category.
Recently Craig, Fiji and I had dinner at Louis on the Block in Children's Way, Bergvliet. Not only did we have a great, reasonably priced meal with good service, but I was impressed by how disability-friendly they were.
My guide dog, Fiji, was warmly welcomed into the restaurant and was offered not only a bowl of water but a snack as well, which Fiji was distraught that I refused on her behalf. Now, while it might sound very unfair that Craig and I got to eat while Fiji did not, the truth is that if she learns that she might get food when we do she will learn to beg – and a begging dog is downright unpleasant at a restaurant.
What really impressed me about Louis on the Block was that the restaurant was also accessible to those with physical disabilities. Though there were steps up to the main entrance, they had a wider door that was easily accessible to a wheelchair..
No, I didn't happen to notice it. Nor did I ask (though I must do so when going to restaurants in the future). But at one point in the evening the restaurant's owner and one of the wait staff crossed to the double door to assist a lady in a wheelchair to enter and join one of the tables having dinner.
The whole experience left me feeling very positive about the restaurant and enhanced my enjoyment of the evening.
Well done for going the extra mile, Louis on the Block!