audio description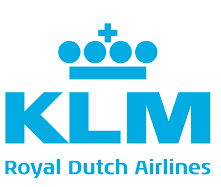 Isn't it funny that my first article on my last three overseas trips have been about in-flight entertainment and, more particularly, audio described movies on that in-flight entertainment – or the lack thereof.
For those of you who aren't familiar with the concept, audio description is a way that blind and visually impaired people can follow the action taking place onscreen. As the name suggests, the action is described in words along with the usual soundtrack of the movie. Sure, there are movies where the plot is driven by dialogue and we can follow more of what's going on. But many movies – thrillers, action, horror, and cartoons, for example –are far more visual and it's hard to follow what's happening without help.
Admittedly I'm a fairly new convert to audio described movies but it's amazing how quickly I've come to expect them to be part of the in-flight entertainment on a long distance flight. So I was distressed when I found no audio described movies on the 11 hour KLM flight from Cape Town to Amsterdam.
Maybe I'd misled myself into thinking all airlines had audio described movies on international flights simply because Emirates Airlines does. Granted, we haven't used other airlines in a while for overseas travel. I'd love to know what other airlines also include movies that take the needs of their disabled passengers into consideration – please let me know if you've experienced any that do.
At least I had my trusty iPhone and book reader with me on my flight so I had plenty to keep me entertained. Still, I'd have liked to have the ability to choose whether or not to watch an accessible movie…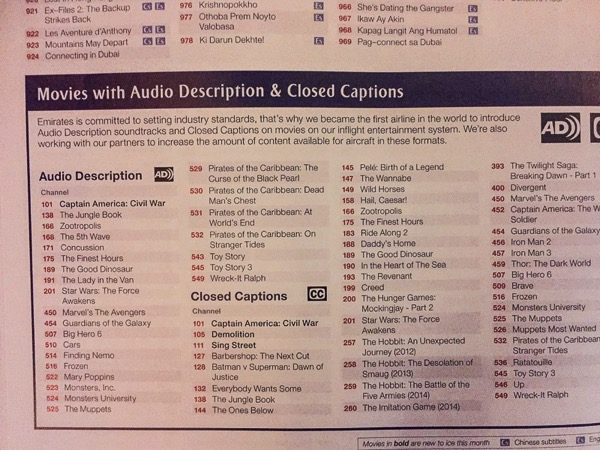 For years several of my visually impaired friends have been encouraging me to try movies with audio description – an additional soundtrack describing what's happening on screen. On the various flights between Cape Town and Greece I finally capitulated… and was totally blown away by how much more fun audio descriptions make the experience of watching a movie!
I am sure that many of my visually impaired friends are rolling their eyes at how long it's taken me to understand this fact. And sure, sometimes I am a little slow on the uptake, but a large part of the reason I've only now tried audio described movies is that I've never been much of a movie watcher – I can usually be found with my head in a book… or is that my ears in a book since I now listen to books?
For my initial foray into audio described movies I decided to try Pirates of the Caribbean a movie I had already "seen", meaning I had listened to it and tried to work out what was happening from the sound effects and the words being spoken. I felt this was the most objective way of measuring how much additional information I gained through the audio description process. I also felt it would give me a chance to become used to the audio description track without having to focus too much on the plot.
If I'm honest, it felt like I was watching a totally different movie! I couldn't believe how much information I'd missed out on the previous time. And it gave me an opportunity to just sit back and relax, rather than having to concentrate on every word, every sound to hehlp me figure out the storyline.
Having proven to myself that audio described movies were a good way to go, I ventured out into watching movies I'd never seen before, starting with another oldie – Toy Story) and then trying out a current blockbuster, Wonder Woman. In each case I had a few issues with the movies, but they were related to the content and storylines, not to the audio descriptions or my understanding of the story.
It looks like I'm (eventually) a convert to the concept of audio described movies – I just wish the Emirates in-flight entertainment system had also been accessible so I could have found the movies without sighted help.