I've been thinking a lot about what I'd like people to know about my life as a blind person – things that I wish were more commonly known that would foster greater inclusion of the visually impaired community into society and the workplace. Because they would help people to understand my world a little better.
I thought it might be useful to share some of the things I wish people knew about blindness in general, and my blindness in particular. This is the first of a series of articles in which I'm going to do just that.
The first thing I'd like you to know is that we are not all the same.
I understand how tempting it is to assume that all blind people are the same – that we all use the same techniques, can do the same things, and have the same preferences. But it is just not true. We are all different. While we may have blindness in common, we are individual people with individual strengths, skills, likes and dislikes. And we may use different techniques to accomplish a task. I have blind friends who can do things that I cannot. And visa versa.
Let me give you a few examples.
I am a guide dog user. I love having the ability of navigating the world around me with my beautiful Fiji walking beside me. Many of my visually impaired friends prefer to use a white cane. Both are effective ways of getting around. Neither is better than the other. They are simply different.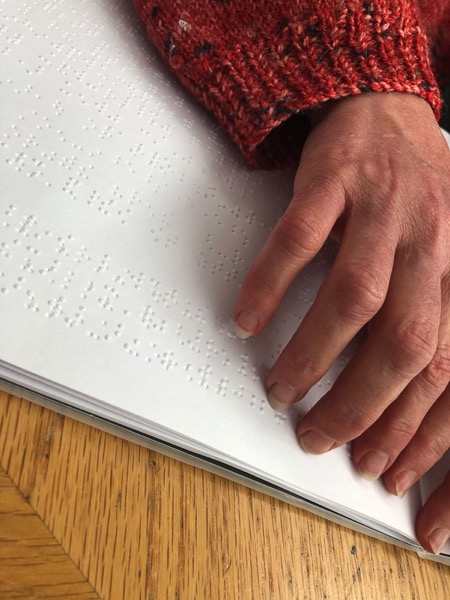 I am not a braille user. I know how to read braille, but prefer accessing information on my computer using a screen reader, which is an audio programme that reads what is on the screen. That's just my preference. Yet I know of many blind and visually impaired people who prefer using braille to access information. They have a braille display for their computer, read books in braille, and use a braille keyboard on their smart phone. Others may use a combination of audio and braille. It depends on each person's preference.
A few months ago, my husband and I went to our local Mugg & Bean. I was presented with a braille menu. Which would probably have taken me a month to read – while I know the alphabet, my braille reading skills are almost non-existent. At the same time, I think it is commendable that the Mugg & Bean chain have braille menus for those who need them. Because many visually impaired customers will appreciate them.
I feel I ought to repeat the point of this article – to show that each individual blind or visually impaired person is unique. Some of my visually impaired friends will probably disagree with some of the articles I write in this series. And some will agree. Because we are not all the same.
So, while I would love for you to join me for this whole series of articles, please don't fall into the assumption that what is true for me is also true for any other blind person you encounter. Chances are that they will feel much as I do – but it's always better to take a little time to ask them about their own experiences and preferences.
Any idea what I'm going to write about next? Why not join me next week and find out…