I can't believe I turned four years old last week. And that mom and I have been partnered for 2.5 years already. As I lie here snuggled up against the cold, I've been reflecting on all that's happened in my life so far.
I'll admit I was a little worried when mom and I first met. I mean, she seemed a nice lady and I was sure I could train her easily enough. Then, one day on class, she burst into tears and nothing I did seemed to calm her down. Nowadays when we give talks, mom explains that she'd become dependent on family and friends since her previous guide dog (my sister Eccles) had retired and that she'd stopped using her other senses and instincts to guide her. And she was terrified that she might do something to harm me or her.
Of course, I already knew that. I'd noticed my new mom was slightly hesitant when we walked. And that she wanted me to walk a lot slower than I like. And that she was always extra careful about stepping off and onto pavements. I tried to tell her that I trusted her and knew I could help her get over her anxiety about walking with me. But she didn't seem to understand. So I realized I'd just have to show her.
It's been wonderful to see how far mom's come in the last 2.5 years – she's far more confident, and is totally fine walking at my preferred pace. She's also happy to go places and do things that she wouldn't have done in those first few weeks. And mom trusts me and knows I'll always be there to help her, no matter what. Unless she ever wants to try bungee jumping – then she's on her own!
When I was training to be a guide dog we often used to wonder about the people we'd be partnered with. And, the day I met mom, I discovered it wasn't going to be just her and me – that I'd have a whole human and doggy family! I love having doggy siblings to play with when I'm not on duty and me and my sisters Emily and Allie spend lots of time having mock fights and pulling rope.
The other really great thing about my family is that I'm allowed to take dad running. I wrote about that last time, so you can go back and read my previous article if you want to know more. Since I wrote the article, Allie's started joining us on our runs which is also fun – especially when she accidentally slips off the rocks when we're free-running on Muizenburg beach.
Finally, I'm really happy I still get to see some of the important people from before mom and I started working together. I see my puppy-walkers, Jenny and Mike, at events quite often and they even came to visit me at my home once. Mom and I sometimes do talks for the SA Guide-Dogs Association so I get to see Avril, Teagan, Cheryl and Charne as well, though I always try to remember to show them how well mom's doing now.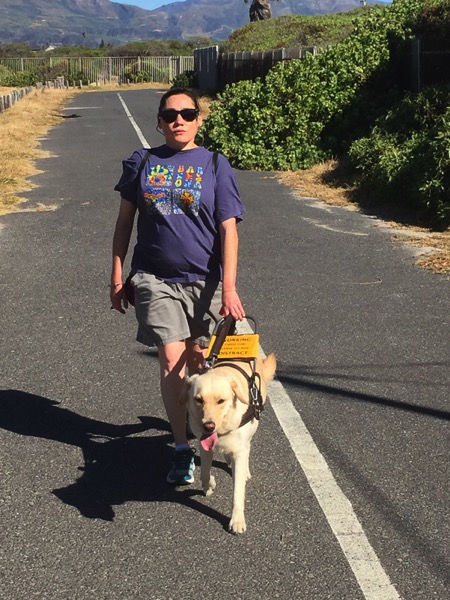 Sometimes when I meet young trainee guide dogs, I laugh at how young, naughty and puppyish they still are. But then I remember how mischievous I was as a puppy, and some of the antics I and my guide dog class got up to and I realize that even the naughtiest dog has the potential to become a wonderful guide dog one day.
I've added a few photos from my carefree puppy days with Jenny and Mike, one of the official photos from when mom graduated from guide dog school with me, and one of me and mom working together.
As I lie curled up at mom's feet reflecting on my four years on this earth and the time I've spent as a working guide dog with my wonderful family, all I can say is wag, wag, wag, wag, wag, wag, wag!