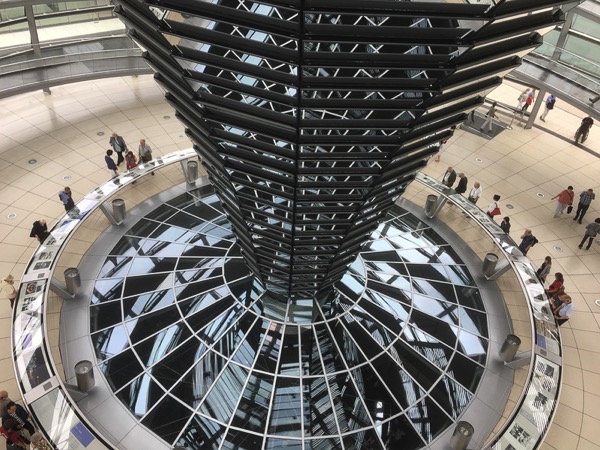 The Reichstag is one of Berlin's most well-known sites. It's synonymous with a whole lot of history, having been the seat of German government from 1894 until it was seriously damaged in a mysterious fire in 1933, an act that has historically been linked to the rise of Hitler and the Nazi Party in Germany. Following the split of Berlin into East and West, both governments moved their location – I grew up with Bonn being the centre of West Germany's government. It was only after the reunification of Germany took place in 1990 that the building was completely restored and from 1999 its once again housed the German government.
With all this history in mind it was obvious that we would try to explore the Reichstag. Incidentally, while they do offer tours, you have to pre-book and may have your reservation cancelled at any time. That happened to us when we first booked, but thankfully our second attempt was successful.
What I didn't expect when I visited the Reichstag was how accessible the tour would be for me as a blind tourist. We were met at the door, escorted through security and guided directly to an elevator that's used by people working in the building, rather than the tourist elevators that go directly to the famous Reichstag dome.
When we reached the glorious glass dome overlooking Berlin I was offered an audio guide and a set of tactile images of many of Berlin's best known sites that can be seen from the dome. I was even asked if I'd like to take the tactile representations with me on the tour but since the box was bulky, not to mention heavy, I declined with a smile and thanks. But I did take the audio guide.
From there the tour follows a set route around the inside of the dome. I was able to trace my way round using the handrail and the audio guide automatically triggered at specific points – if you stop, so does the audio recording. I thought this was a great approach since we all walk at different speeds and you don't have to fumble with the unit to get it to play when you stop.
The tour gives you a bird's eye view of Berlin, which again was a different perspective from that I'd seen before. It also gives you the opportunity to look down into the chamber where the government sits, which is interesting in its own way. And yes, I'm totally aware how odd both of those statements sound coming from a blind person.
It's not only visually impaired tourists whose needs are catered for at the Reichstag. There were no steps in the route we used to access the dome, and the entire tour of the dome is done using ramps. Not only does this make it accessible for people with mobility impairments but it also keeps people moving smoothly without bottlenecks – no fast-moving people getting frustrated by those who take time climbing stairs!
We often hear references to German efficiency and, having toured the Reichstag, I can certainly attest to that national trait! My only disappointment was that I still don't have a definitive answer to who set that mysterious fire in 1933!