I usually try to find out about a city before going there. Learning a city's story helps me build an impression of what I might find when I arrive. And then I use my experiences in that city, and all that I learn from my other senses, to build a more complete picture.
That wasn't possible when we went to Wroclaw. We only planned to go to the city later in our trip. Our plans changed when the weather in our next proposed destination, Zakopane – a small but beautiful ski resort in the mountains outside Krakow – was dismally unpleasant. So we went to Wroclaw instead. Which is a very long and complicated way of saying that I had done no research on the city.
I was delighted when we took a tour on the river Oder and discovered our skipper/guide was a goldmine of information of the history of his city. More than that, since we were the only passengers on the boat, we were able to ask questions and dig deeper into any aspects that intrigued us.
Here's my potted recent history of Wroclaw, based on what I learned from our guide:
Wroclaw has a fascinating recent history. It only became a Polish city when Europe was carved up following WWII. Previously it was a German city named Breslau, with a strongly German population. When the new borders were confirmed, there was an almost total population change – the Germans left (or in some cases were forcibly removed) and the city became populated by Polish nationals.
After WWII, Poland fell under the domination of the Soviet Union. The underground anti-communist organizations Fighting Solidarity and Orange Alternative were founded in Wroclaw. Orange Alternative used an image of a dwarf to help members find their way to secret meetings, and the dwarf symbol has now been adopted in a wonderfully unique way – but more on that in my next article.
With the fall of Soviet power in 1989, Poland started becoming the friendly, fun and dynamic country Craig and I enjoy visiting. Which doesn't mean everything in Wroclaw has gone smoothly…
In 1997, the river Oder flooded with devastating effects – it was the worst flooding in post-war Poland, Germany and the Czech Republic. About one-third of the area of the city was flooded and took huge amounts of time and money to repair.
Nowadays the city has a population of around 1 million, with almost 130 000 students studying at the university, which gives it a very youthful population.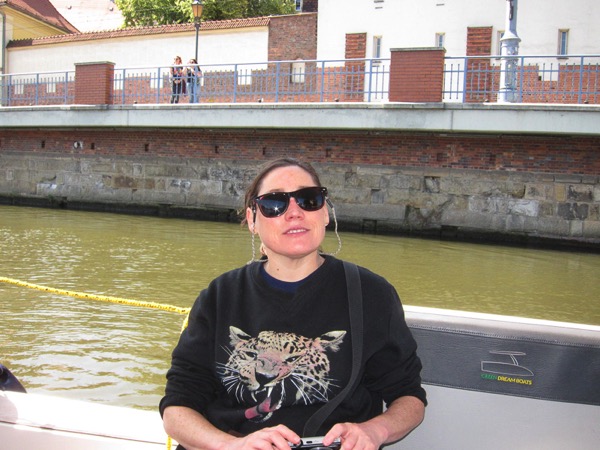 After our river tour we started exploring the city on foot. As we visited interesting buildings, sampled the city's markets and eateries, and engaged with people, I was struck by how young and cosmopolitan the city is.
While Wroclaw isn't a hugely popular tourist destination, we encountered tourists from several countries and heard different languages and dialects. I found most people friendly and happy to chat about the city to an inquisitive tourist (me) which leads me to agree the city motto is an apt one: Wroclaw – The Meeting Place.
I'm not sure I'd go back to Wroclaw to stay for an extended period of time, but I would be very tempted to go back to meet more of the Wroclaw dwarves – which I'll tell you about in my next article!
The images show a view of the river Oder taken on our tour, and a shot of one of the busy outdoor markets in the main square of Wroclaw.
Note: My use of the term dwarf is not meant as an offensive and non-politically correct reference to persons of small stature; it is the term used by the city itself – and I'll explain more in my next article.